Our school has an extremely late spring break...mid-April. I love that the weather will be warm during our break, but having that time off together this late in the year has us all ready for summer. We threw together our favorite late Florida spring break/summer survival tips, including our
favorite oils and products that will save you this season. You will hear how to survive the great outdoors with fantastic skin-loving products, tasty snacks, and easy DIY recipes. Next, we will dive into surviving all those summer cookouts with oil-infused recipes that everyone will love. I left a ton of printables at the end as well!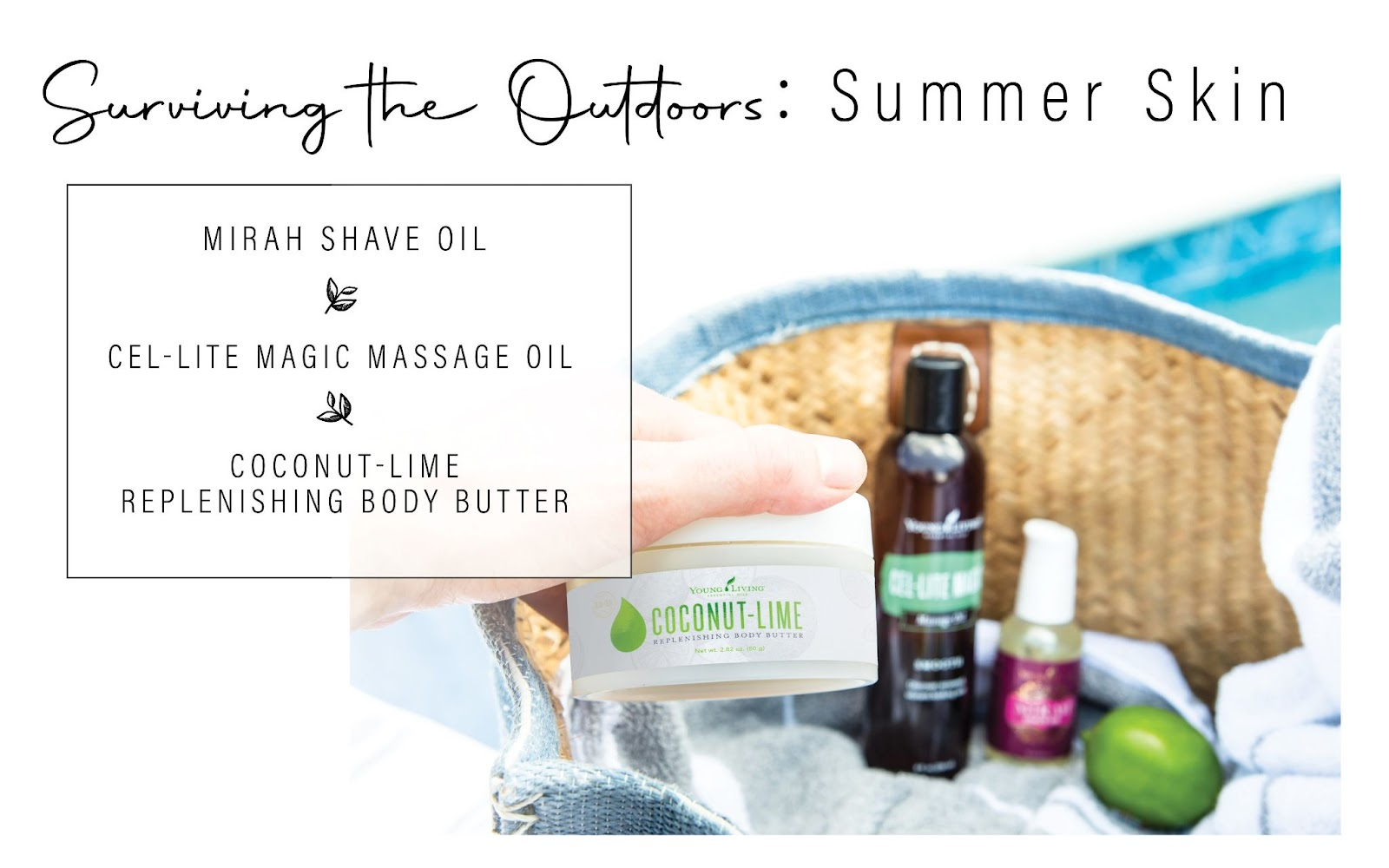 It's swimsuit season, which means… well, you know what that means. ;) You are beautiful just the way you are, no matter your shape or size, and these will help you feel your best!
Prepare your legs and underarms with the Mirah Shave Oil, a luxurious addition to your self-care routine. Mirah Shave Oil is formulated with a rich blend of essential oils, emollients, and botanical ingredients. Exotic baobab, meadowfoam, and avocado oils work with Young Living's exclusive Mirah essential oil blend to reduce razor drag, bumps, and nicks. You can shave with it or use it afterward to keep things nice and happy.
Next up, you will want to grab some Cel-Lite Magic Massage Oil. This beauty tones and nourishes the skin with pure vegetable oils, vitamin E, and the best essential oils on the planet. Grapefruit oil improves the appearance of skin texture, while Juniper oil helps cleanse.
PRO TIPS: If you want to kick things up a notch, add an entire bottle of Grapefruit or Cypress oil and reap the benefits. In combination with massage, this summer must-have can improve circulation by flushing lactic acid from the muscles resulting in improved body function. Massage facilitates the flow of lymphatic fluid, which carries metabolic waste away from muscles and internal organs. #WinWin
NOTE: Grapefruit is a citrus oil that can cause your skin to be more sensitive to the sun after use. Those with a base tan may use this little trick to accelerate those rays; if you burn easily, use this at night.
Last, let's talk about treating ourselves to some tropical goodness - Coconut Lime Replenishing Body Butter. This gem is fragranced with the natural scent of coconut oil and Lime essential oil to create a warm, tropical aroma every time you apply it. So lovely! It nourishes and smooths skin with two fruit seed butters: mango and cupuacu butter, which contain fatty acids that help skin maintain a youthful appearance. I like the sound of that!
Made without parabens, petrochemicals, colorants, or animal-derived ingredients, this vegan body butter is filled with skin-loving ingredients. You will walk out that door feeling exotic, confident, and comfortable. Just remember, it does contain Lime essential oil, which is sun-sensitive, so be mindful of that when you apply it.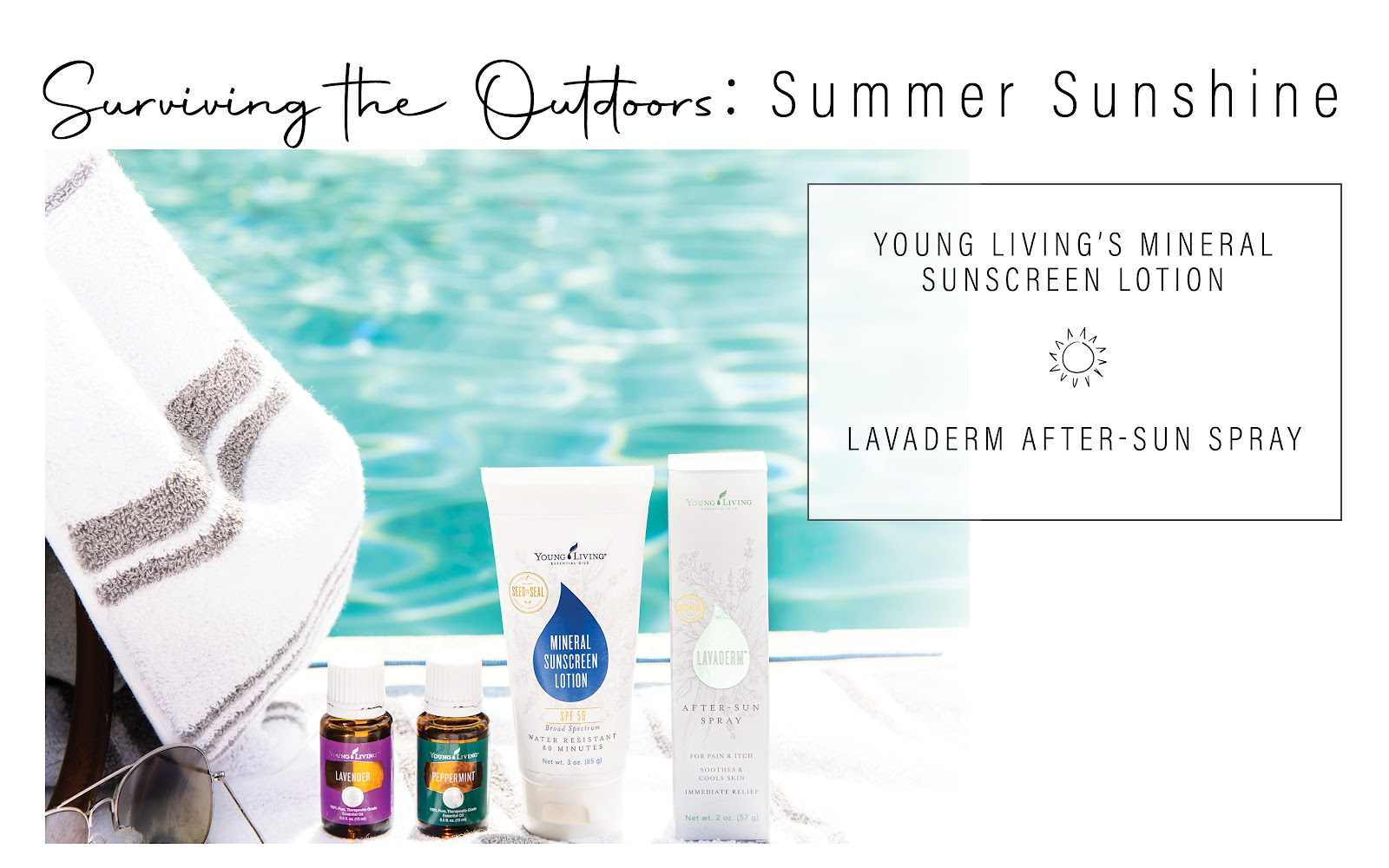 There is so much summer sun to take in while spending time in the garden, at the pool or the beach, hiking, or just enjoying a walk through the neighborhood. Exposure to sunlight is good for the soul… and your health! When exposed to sunlight, your skin makes Vitamin D from cholesterol. This vitamin plays a vital role in our immune system, so that it can be hugely beneficial. However, overexposure to the sun can lead to burned skin, wrinkles, eye injuries, and even skin cancer. So let's protect that beautiful skin, shall we?
Young Living's Mineral Sunscreen Lotion SPF 50 is the perfect solution! It's a natural, broad-spectrum sunscreen and is chemical-free, making it a healthy alternative for adults and kids. This dermatologist-reviewed product is formulated to quickly smooth on skin without leaving a white residue. Enjoy the outdoors worry-free with up to 80 minutes of water- and sweat-resistant lotion. It's reef-safe and made with non-nano zinc oxide. This might just be the best sunscreen you've ever used!
And if you forget your sunscreen and that gorgeous skin gets a little toasty, don't fret! LavaDerm After-Sun Spray is here to help you refresh and recover. This naturally derived after-sun spray offers temporary relief from the pain and itching of minor burns, minor cuts, sunburns, scrapes, insect bites, and minor skin irritations, so your family can keep playing all day!
Want to whip up your own After-Sun spray? Try this easy recipe.
Add all ingredients to a 4 oz. spray bottle. Shake well and apply generously to skin that needs cooling. Re-apply as needed.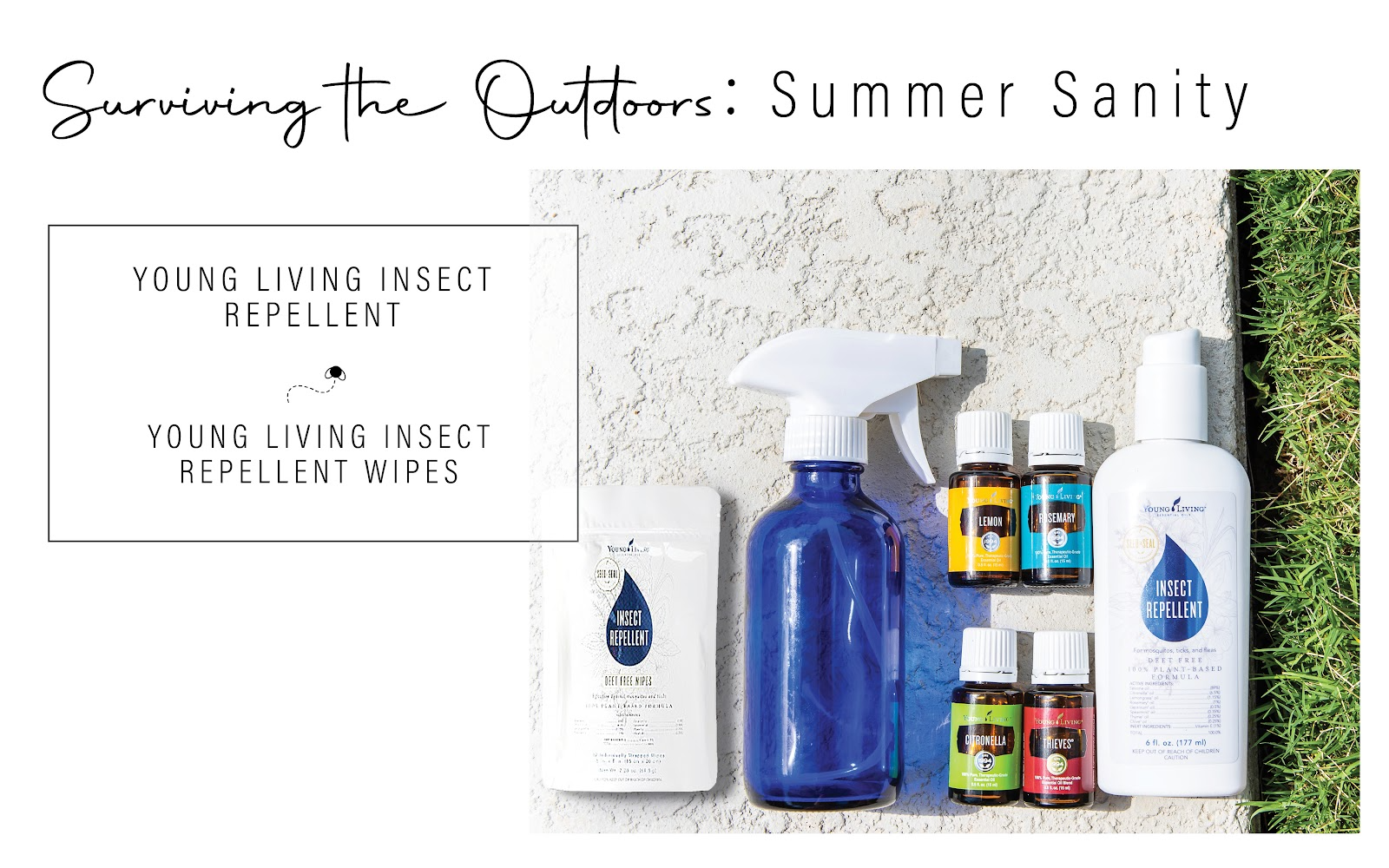 Nothing annoys me more than pesky mosquitoes that fly around my head and nibble on my skin, leaving bumps and itchiness for days. No one has time for that! Do yourself a favor and grab some of Young Living's plant-based Insect Repellent.
Pure sesame oil and a carefully selected blend of essential oils traditionally used for their bug-repellent properties come together to make up 99% of the active ingredients in this formula. The other 1% is Vitamin E. That means you can use it on your entire family and not worry about the synthetic chemicals used in many traditional repellents. You'll also love the citrusy aroma and smooth, non-greasy, non-sticky application.
And did you know? This also comes in a convenient wipe!
Notes: When applying to animals, avoid contact with eyes, nose, mouth, and open wounds.
Want to whip up your own Outdoor Spray? Try this easy recipe for an annoyance-free time.
Mix in a 4 oz. glass spray bottle. Shake before each use.
NOTE: Lemon is a citrus oil and can cause your skin to be more sensitive to the sun after use.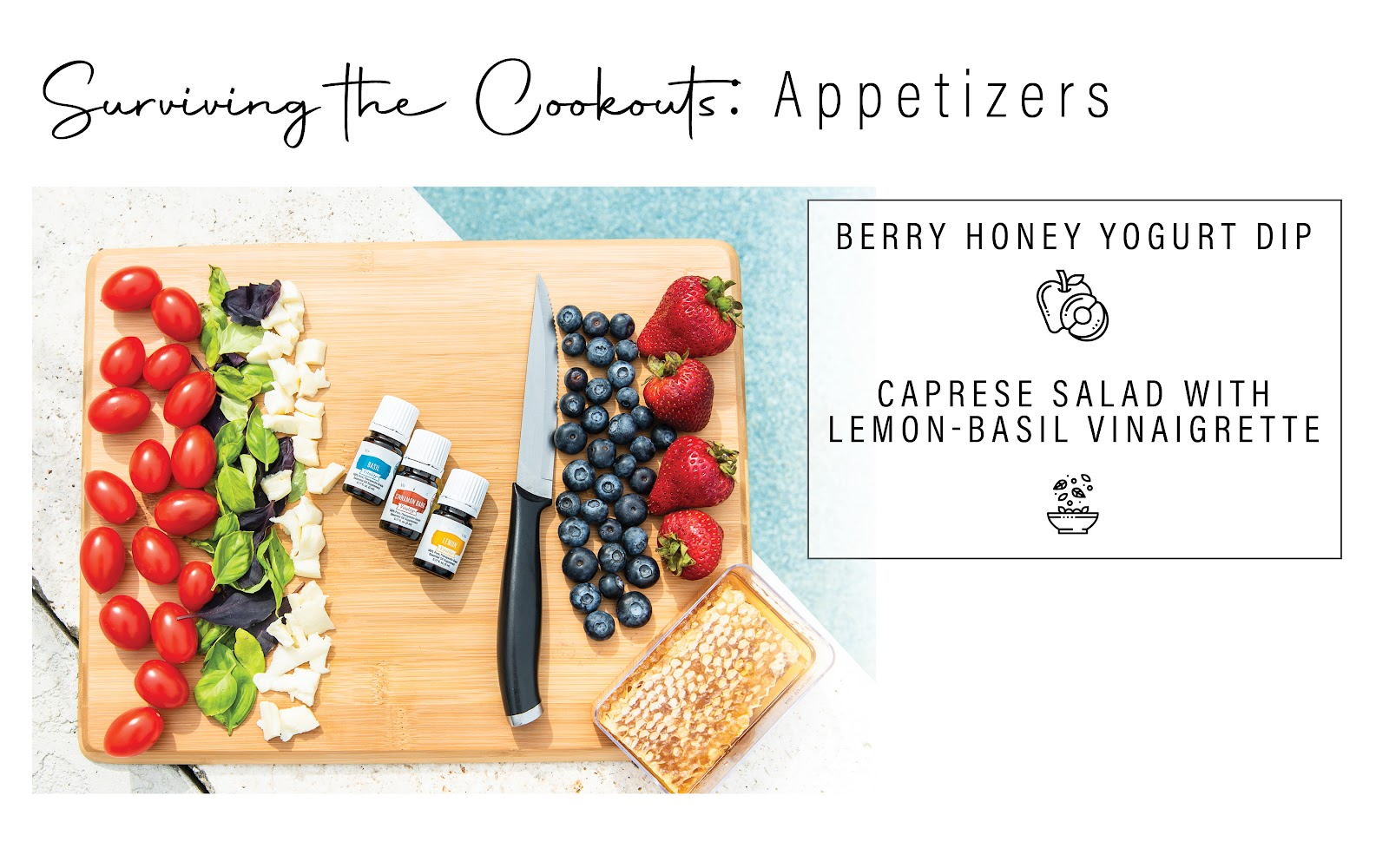 Now that you've gotten a few drink recipes let's move on to some appetizers.
This is my favorite category. I could honestly sit around and eat a variety of appetizers as my dinner.
This first one is a favorite for the kids. We use Cinnamon Bark Vitality in this recipe, but you could try others to find which one speaks your language - Orange or Lemon Vitality would be two I would try first!
2 cups plain or vanilla Greek yogurt

½ c honey (decrease to ¼ if using vanilla yogurt)

1 drop Cinnamon Bark Vitality
Combine yogurt, honey, and Cinnamon Bark Vitality essential oil in a medium bowl. Cover and refrigerate for one hour. Serve with assorted fresh fruit. Store in the refrigerator for 3-4 days.
Did you know?
Cinnamon Bark Vitality can help support healthy digestive and immune systems. It's also one of the oils in the well-known Thieves blend.
This next one is a hit with the adults, but some kids may enjoy it too! Put your garden to good use, and grab a few ingredients to share with friends.
Caprese Salad with Lemon-Basil Vinaigrette
Grape or cherry tomatoes, halved

Fresh mozzarella, cut into chunks
Set aside tomatoes, mozzarella, and fresh basil leaves in a bowl. Add red wine vinegar, balsamic vinegar, garlic, olive oil, salt and pepper, Basil Vitality, and Lemon Vitality to a blender or food processor and mix until combined. Pour vinaigrette over tomatoes, mozzarella, and fresh basil and stir gently. Serve immediately.
Did you know? Basil Vitality can support the nervous system and digestive systems. Lemon Vitality is an immune system powerhouse that helps flush toxins in the body.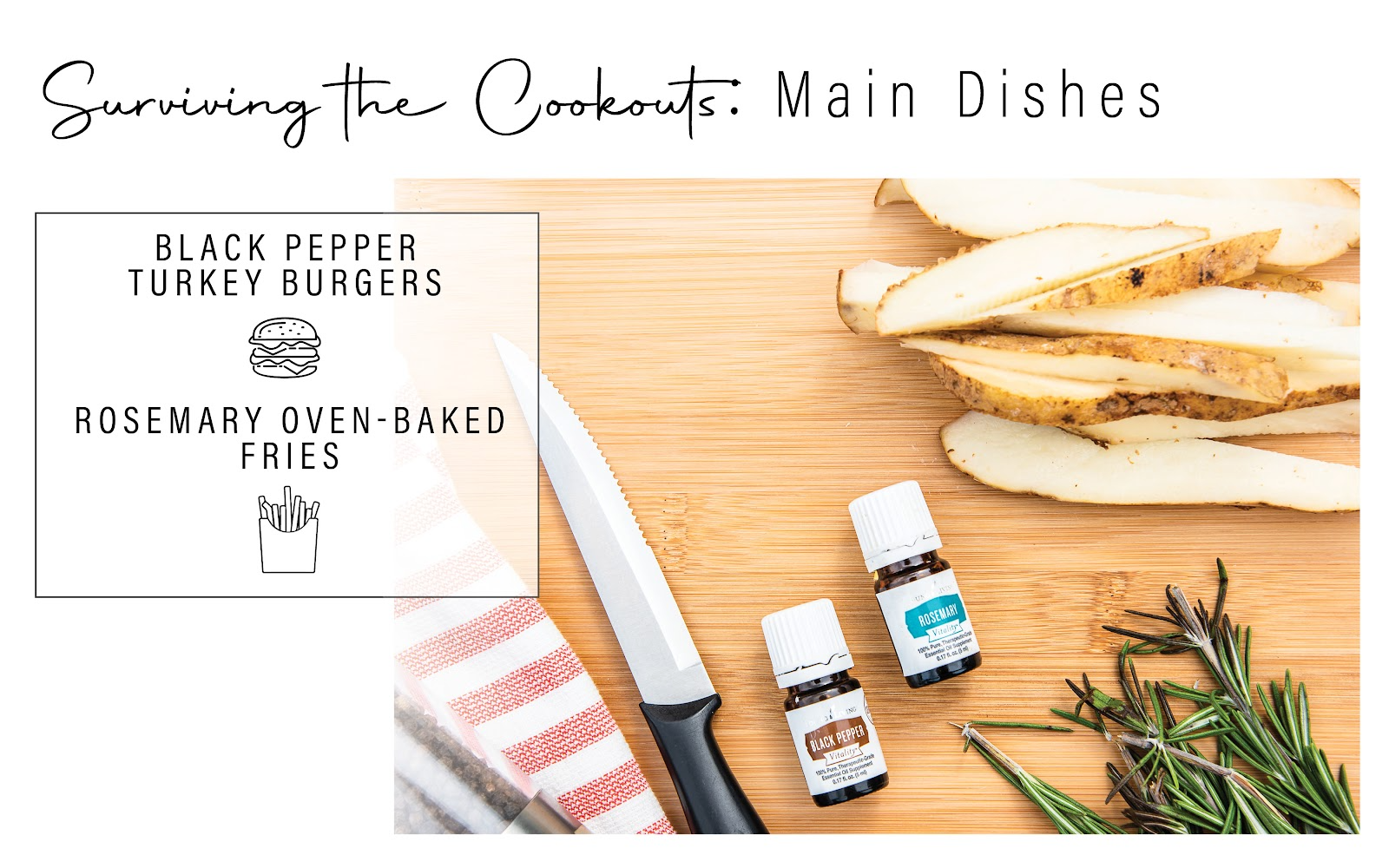 Now that we've gotten some food on our bellies with those delicious apps, let's jump into some delightful main dish recipes! Fire up the grill and break out those oils; we'll whip up some burgers and fries.
Black Pepper Turkey Burgers
½ c shredded Swiss cheese

10 drops Black Pepper Vitality
Mix ingredients in a large bowl. Form ground turkey into patties and grill. Enjoy!
Did you know? Black Pepper Vitality stimulates the entire digestive system and WAY more! Google it. ;)
Rosemary Oven-Baked Fries
Preheat oven to 425℉. Cut the potatoes into thin strips and place them in a large bowl. Mix ingredients and pour over potatoes. Toss until coated well. Bake for 20 minutes then increase the oven temperature to 450℉ and bake for 10 additional minutes or until golden brown. Enjoy!
Did you know? Rosemary Vitality can support the digestive, immune, and respiratory systems.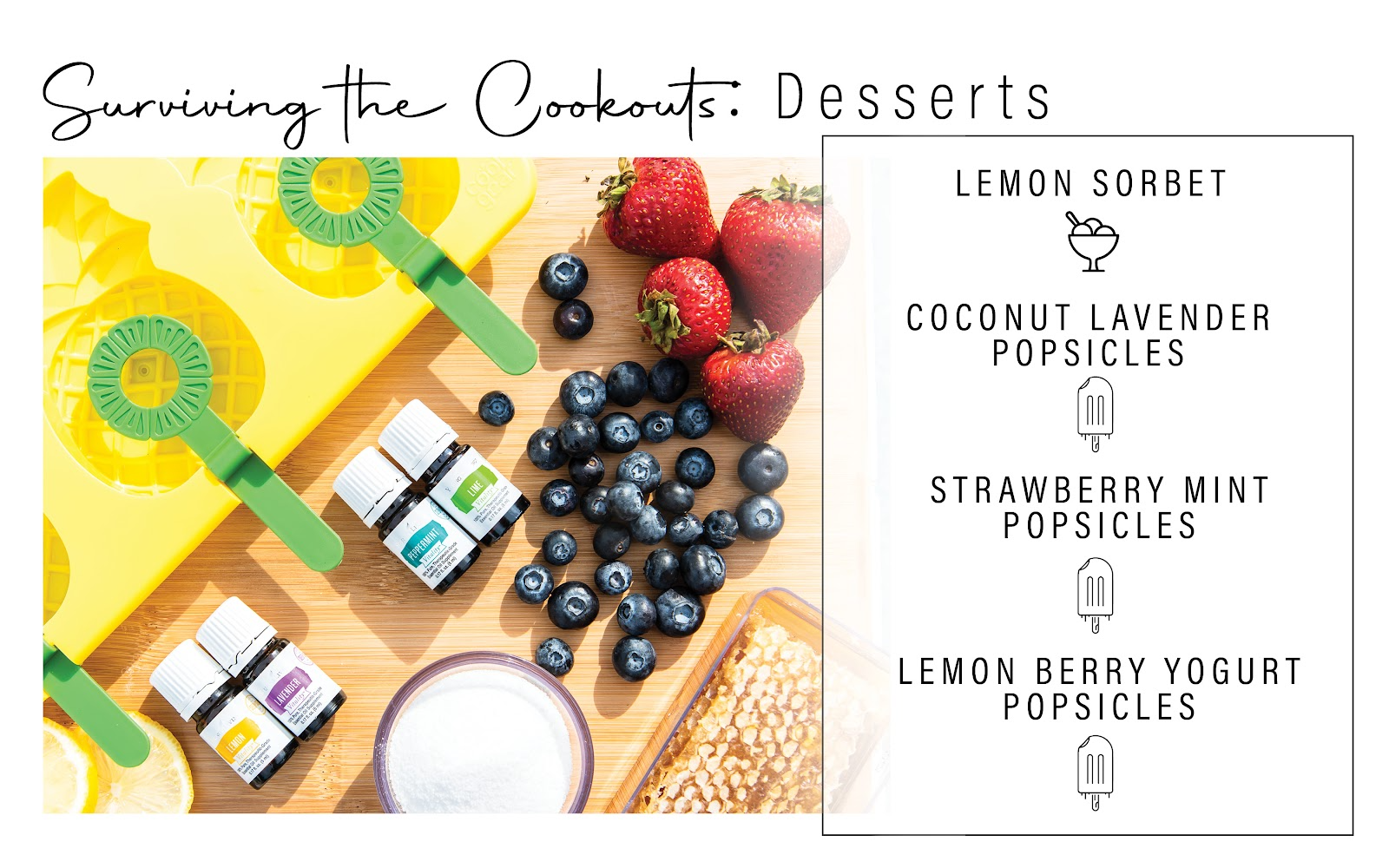 Now on to my favorite meal of the day… dessert! ;) Nothing like an ice-cold bite of a refreshing sorbet or popsicle to end a hot summer day. And when you've infused them with the best essential oils on the planet, you can even enjoy them guilt-free.
1 ½ c organic evaporated cane juice crystals
Create a syrup by combining water and cane juice crystals in a small saucepan. Bring to a boil and cook until the crystals are dissolved, stirring occasionally. Remove from heat and cool to room temperature. Combine syrup, Lemon Vitality, and lemon juice in a medium-sized glass or stainless steel bowl and mix until thoroughly combined. Cover and chill for 2-3 hours. Churn in an ice cream maker according to the manufacturer's instructions. Cover and freeze until ready to serve.
Did you know? Lemon Vitality provides excellent support to the circulatory system.
Now for some oil-infused popsicles. Simply place all the ingredients in a blender and mix until well combined. Pour the mixture into popsicle molds and freeze for 4-6 hours.
Coconut Lavender Popsicles
1-3 drops Lavender Vitality
Strawberry Mint Popsicles
1-2 drops Peppermint Vitality
Lemon Berry Yogurt Popsicles
Did you know? Lavender Vitality supports the integumentary, cardiovascular, and nervous systems. Peppermint Vitality supports the muscular and digestive systems. Lime Vitality supports the lymphatic system. Lemon Vitality supports the immune, digestive, and lymphatic systems. Not bad for a popsicle, huh?!