It's time to ditch those bland dried herbs and spices and bring your favorite dishes to life with essential oils!
This blog post will teach you how to infuse your food with robust flavor, how to substitute essential oils for commonly used ingredients properly, and how to ensure you are doing it safely, so p
ull up a seat at the table, and let's learn how to cook with essential oils!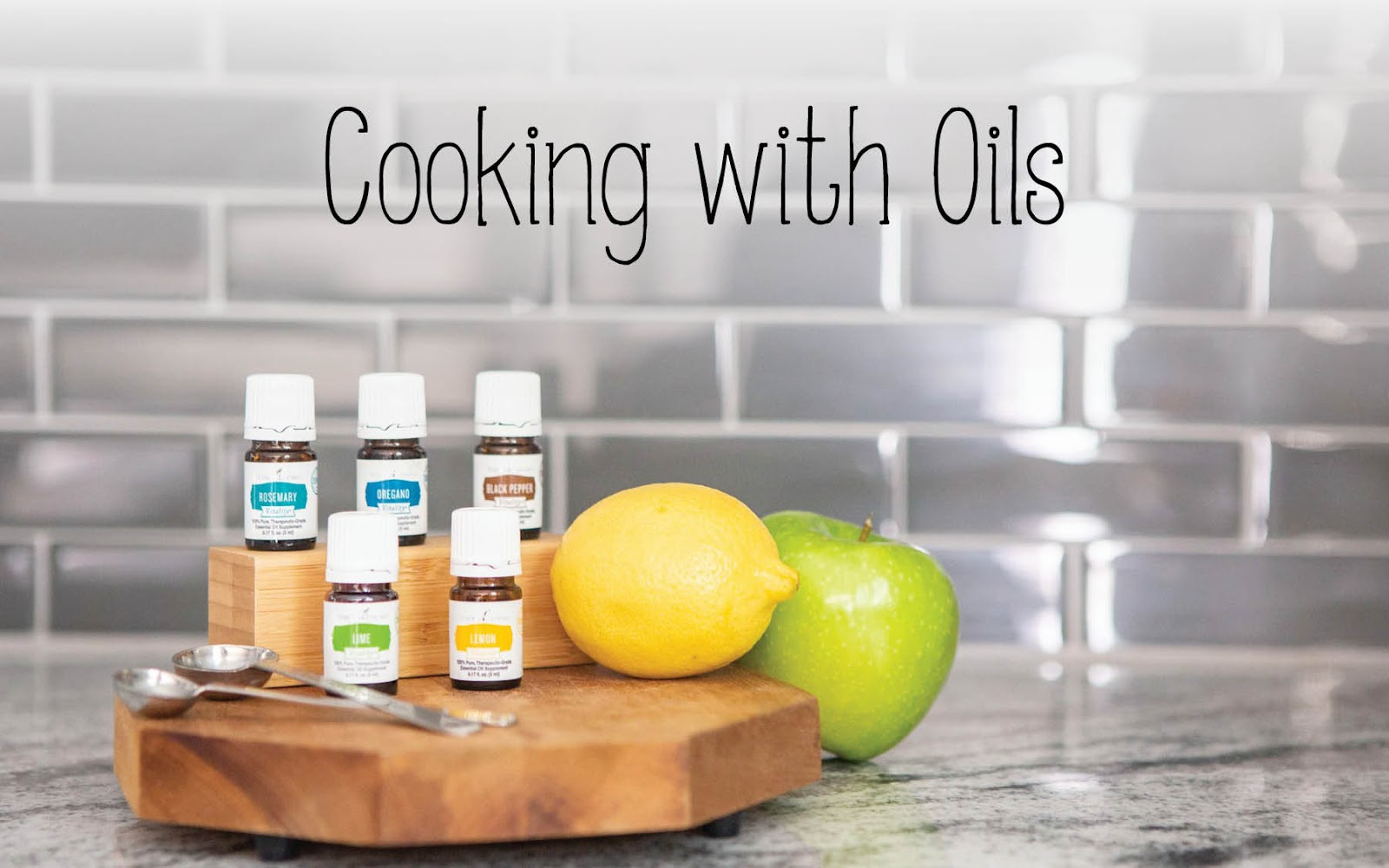 "The most indispensable ingredient of all good home cooking: love for those you are cooking for."
~Sophia Loren
Ingesting oils can be a concern for some, but don't worry! This class will give you the knowledge to make an informed decision and the confidence to try new things.
Not all essential oils are created equally. When you shop with Young Living, you get quality products backed by a 'Seed to Seal' guarantee that you won't find anywhere else. You can expect that Young Living will provide you with only the BEST!
plant material that is grown on corporately-owned farms or carefully vetted partner farms (that you CAN visit!)

sustainable farming and sourcing practices, providing the purest oil

great care taken to preserve and protect natural resources

hand-weeded fields and ZERO use of pesticides

oils that retain all their natural constituents and therapeutic properties

use of food-grade distillers with state-of-the-art design and distillation methods

low pressure and low temperature distillation, without the use of solvents or synthetic chemicals

rigorous testing on each batch by internal labs and third-party facilities

oils that are carefully reviewed through

every

step of production in order to meet or exceed industry safety and purity standards (beyond organic!)
And the best part
… if the oils do not meet these high standards they are rejected and will
not
be bottled as a Young Living product. Now that's amazing!!
Cooking with oils is not complicated but we've got a few tips for you!
Store your oils in a cool, dry place; oils often do well in the refrigerator.

Put your 'cooking' oils in a dedicated food-grade dropper bottle to make measuring easier.

Use stainless steel or glass prep/mixing bowls; oils and plastic don't mix well.

Keep bottles sealed tightly to preserve their quality and shelf life, but not so tight that you crack the lid.

Add oils to your dish at the end of the cooking process; this will extend the life of your oils by requiring fewer drops to achieve the same desired flavor.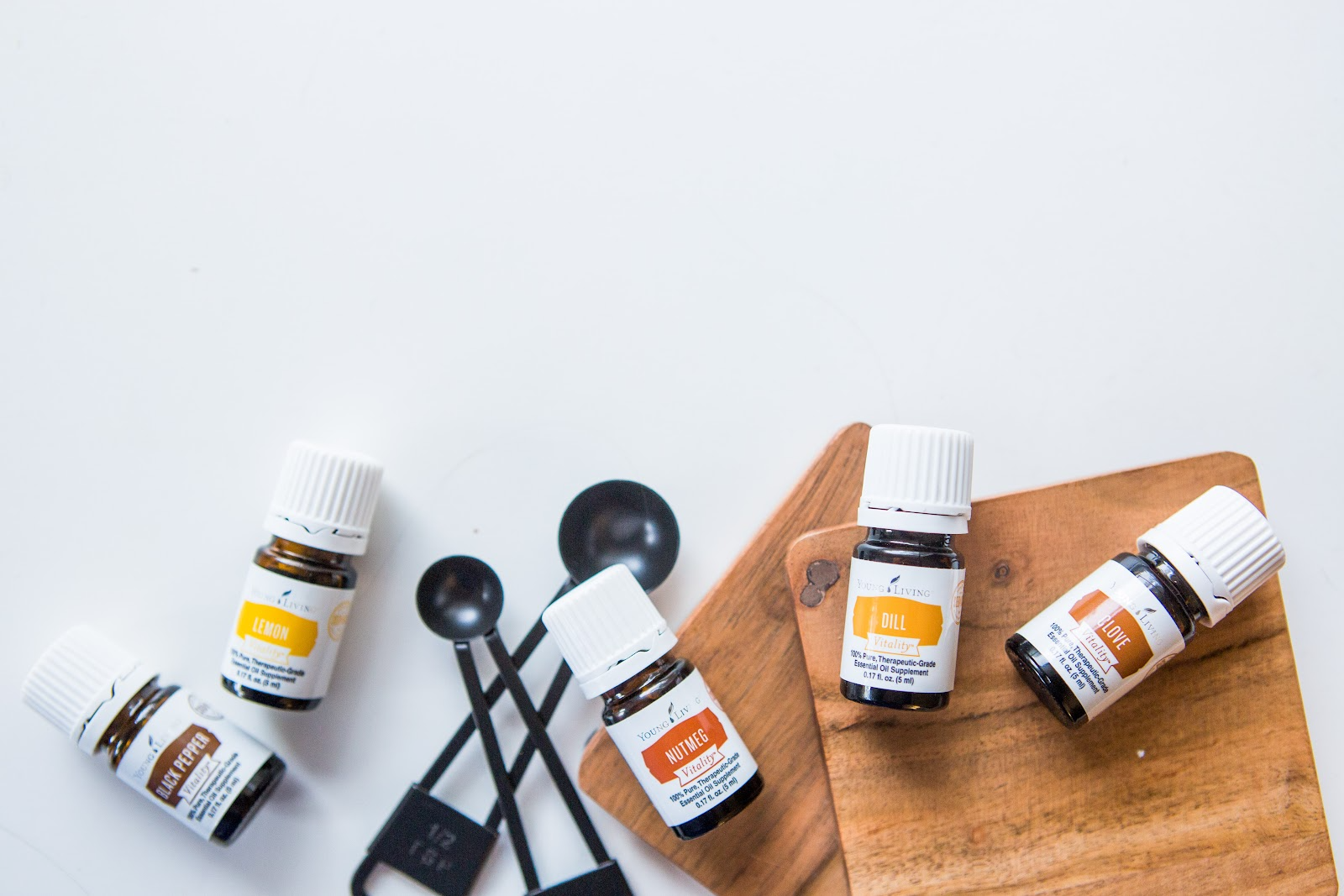 Cost & Convenience
Do you buy fresh or dried herbs and spices from the grocery store to cook with? Are they organic? Have you ever done a breakdown of how much that is actually costing you per dish?
One thing I hear sooooo often is, "Oils are too expensive!" Hmmm - I think not!
Since Amazon is a household name, I picked a product from there - "Frontier Co-Op Organic Rosemary Leaf,
Fancy Grade."
(I didn't know there was a fancy grade of Rosemary, but let's go with it.)
You can get a 0.85-ounce bottle for $4.69. It contains approximately 7 tablespoons of organic dried Rosemary leaves, which ends up being $0.67 per tablespoon.
According to our conversion chart, 4 drops of Rosemary essential oil is equal to 1 tablespoon. An entire bottle of Rosemary Vitality (90-100 drops) costs only $8, equaling just around $0.08 per drop - a total of $0.32 for a 'tablespoon' worth of Rosemary.
I'm no math whiz but I think $.32 is less than $0.67. That's more than a 50% savings! Right? Maybe I am a math whiz after all. Ha!!
So let's say you are making a dish and the recipe calls for 1 tbsp of Rosemary, you could run to the store (or wait for it to be delivered from Amazon) and pay for the dried stuff. Or you could grab fresh Rosemary, probably pay even more, only to use what you need, and then end up throwing out the rest because it turned brown.
The best (and most affordable) option? Have a well-stocked oil cabinet and you can grab your Rosemary Vitality instead, spending only $0.32, and give your dish a fresher, more robust flavor profile! And guess what? You can keep using that SAME bottle of oil for 25 more dishes and still get great flavor and freshness every time!

That all adds up to a win in my book!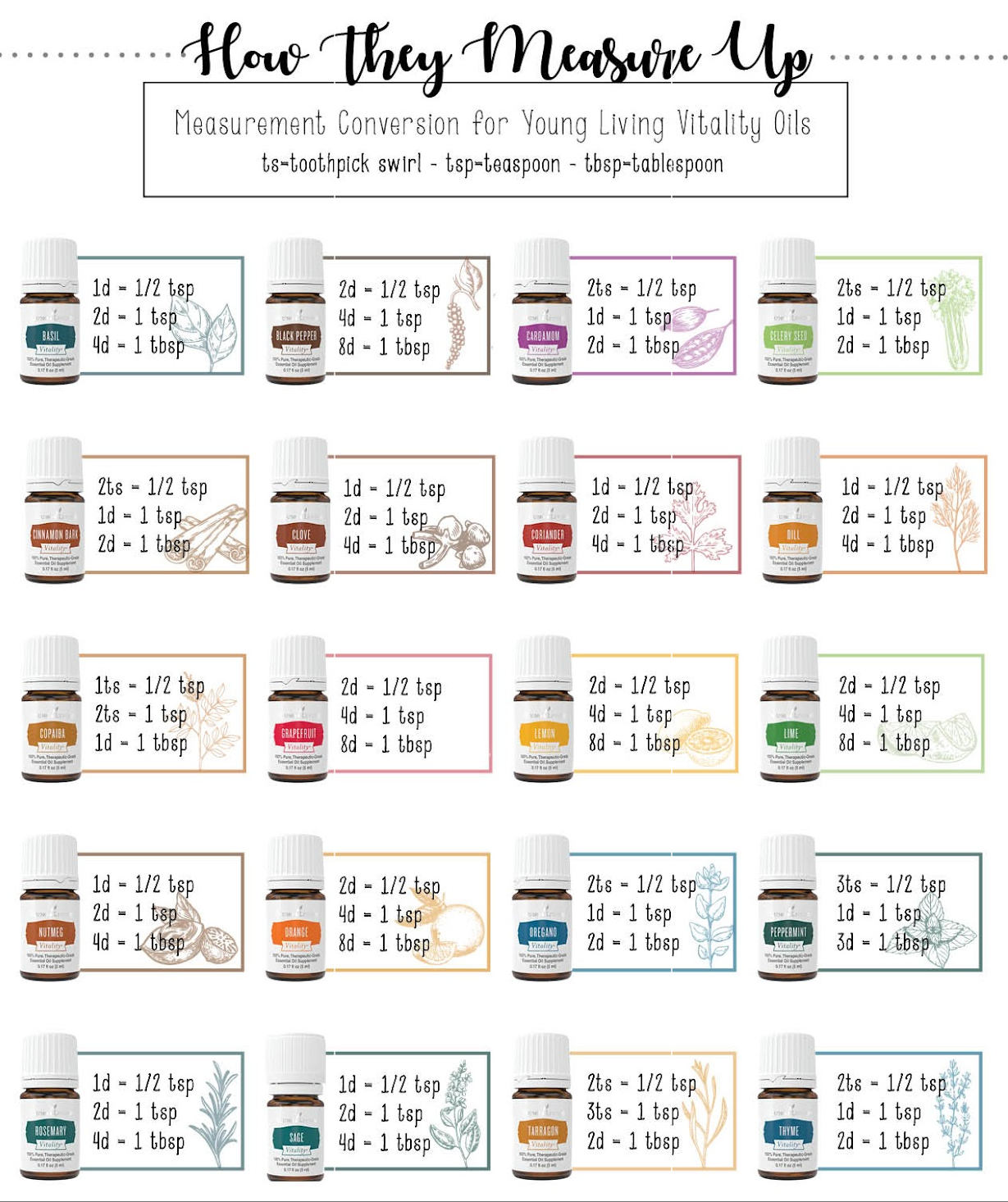 Another savvy way to cook with oils and get the best BANG for your buck is to infuse #allthethings … butter, salt, olive oil, water, pretty much anything your heart desires!
Flavored Butter: Add one drop of essential oil to 1 tsp of softened butter.
Flavored Salt: Grab your empty Lemon, Lime, Basil, Rosemary, or Thyme essential oil bottles and fill them up with good quality Himalyan or Celtic Sea Salt; let sit for at least 24 hours. Voila! Oil-infused salt for your dishes!
Flavored Sprays: Combine 1 tbsp of Extra Virgin Olive Oil, 10 drops of your desired essential oil, and filtered water in a 2-ounce food-safe, glass spray bottle. Shake well before each use and spray on food at the end of cooking. Perfect for pasta!
Flavored Kitchen Oils: You get to play around with this one! Grab a 2-ounce food-safe dropper bottle (preferably glass) and fill it with Extra Virgin Olive Oil (or your favorite kitchen oil), leaving room for some essential oil flare. Start with just a few drops of your desired essential oil and add more until you've reached the preferred level of flavor.
Flavored Water: Citrus essential oils are a great option for flavoring your water. They're cold-pressed from the rind so they aren't hard on your tooth enamel. Plus they're filled with antioxidants! Start with one drop in a glass of water (remember oils and plastic don't do well together) and add more if desired.
Try this delicious recipe for starters! Remember, you are the chef here! Add whatever ingredients or oils your palette desires. Use your imagination and get creative!
½ cup Olive Oil
2 cloves garlic, minced
1 shallot, minced
2-3 drops each Lemon and Lime Vitality
3-4 drops Tangerine Vitality
1-2 tbsp sweetener, to taste (raw honey or liquid stevia)
Salt and Pepper, to taste
Four Seasons of Flavor
One of the best things about cooking with oils is that they never go out of season. You could be in the dead of winter and still whip up a dish that tastes as fresh as spring! Let me show you some ways to do this…
Add Black Pepper Vitality to your scrambled eggs.

Add Orange or Thieves Vitality to melted chocolate and drizzle over sliced fruit.

Add Peppermint Vitality to brownies or hot chocolate.

Add Cinnamon Bark or Nutmeg Vitality to pancake batter.

Add Oregano and Basil Vitality to spaghetti sauce.

Add Lemon Vitality to marinades for chicken and fish.

Add Dill Vitality to your favorite potato salad.

Add Cilantro Vitality to your rice on Taco Tuesday!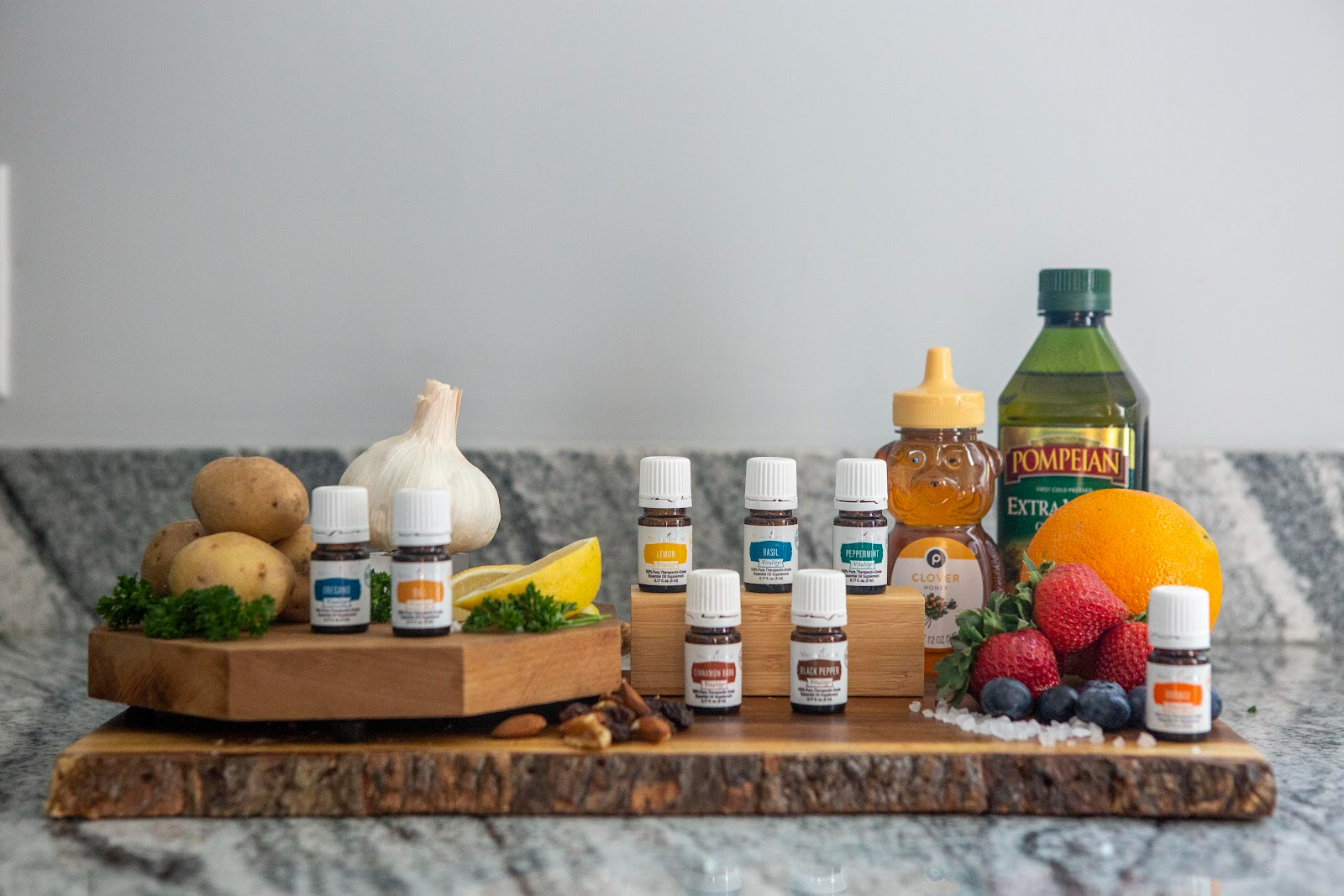 Since this blog post is already getting long, I'm just going to add my favorite Fall recipes here! Stay tuned every month for the other seasons!
Autumn Bliss
"Autumn shows us how beautiful it is to let things go." ~Unknown
As much as I love summer, and hate the thought of winter fast approaching, autumn is my favorite seasons.
When the air turns cooler you start to break out the hoodies, go on hay rides, get cozy by the fire, and whip up all the pumpkin and apple recipes you can find. These tasty recipes will fit right in!
Cinnamon Apple Chips (
The Lavender Life
)
1 drop Cinnamon Bark Vitality
Use Thieves Fruit & Veggie Spray to clean the fruit.

With a mandolin or knife, thinly slice apples from top to bottom.

In a small bowl, combine honey and Cinnamon Bark Vitality.

Line two cookie sheets with parchment paper and place apple slices on top. Drizzle honey mixture over apple slices.

Remove from oven and place apple slices on cooling rack.
For best results, store apple chips in an airtight container and eat within 24 hours.
Pumpkin Spice Protein Bars Ingredients
4 oz. unsweetened applesauce

2 drops Cinnamon Bark Vitality

1-2 drops Ginger Vitality

1 tsp aluminum-free baking powder

2 tsp pure vanilla extract

2 scoops Pure Protein Complete™ Vanilla Spice protein powder

½ cup chopped walnuts (optional)
Grease a 9x13 glass baking dish with nonstick spray or coconut oil.

Combine Stevia powder, unsweetened applesauce, Cinnamon Bark, Ginger and Clove Vitality oils, aluminum-free baking powder, baking soda, salt, vanilla extract, and egg whites in mixing bowl; mix well.

Add oat flour, Pure Protein Complete™ Vanilla Spice protein powder and chopped walnuts; mix well.

Spread batter into baking dish and bake for 30 minutes.

Allow to cool before cutting into 30 equal squares.
14 oz. sweetened condensed milk

2 tsp pure vanilla extract

2 drops each Cinnamon Bark, Clove, and Nutmeg Vitality
Whisk all ingredients together until fully combined.

Add desired amount to regular black coffee & stir.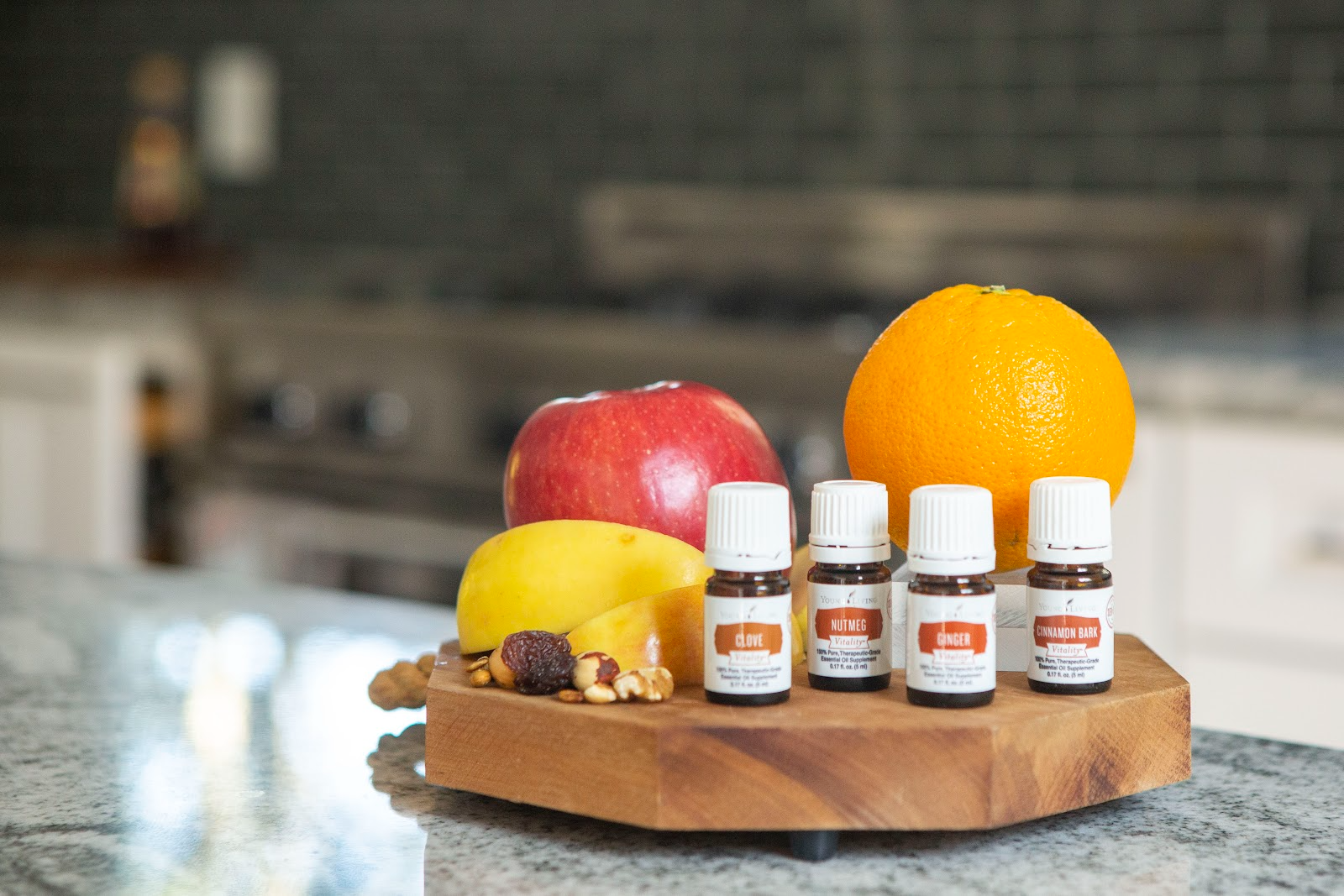 Well, you did it, Chef! You now know how to cook with essential oils. Walk confidently into that kitchen and whip up your first oily recipe. Don't be afraid to get creative, experiment, and try new things! You've got this!
Of course, I made you a shopping list to make your life easier!
This wishlist
includes all of the oils used in our fall recipes!